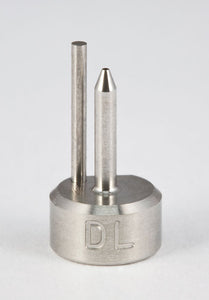 EZ-FLO Footed Surface Mount | Contact for price
The DL Technology EZ-FLO surface mount footed needles are custom-designed for a variety of precision applications. Each needle is machined from solid stainless steel as opposed to rolled tubing. The resulting smoother internal profile enhances material flow and consistency.
The chamfered needle tip is finely ground in a conical direction to allow for better material release.
Easy Release footed needles are used for SMD epoxy, solder paste, conductive epoxy and other materials for which it is important to maintain a fixed Z offset from the substrate.
Footed East Release needles are available in 12 to 32 gauges in .25 (6.35mm) and .35 (8.89mm) lengths.
---
We Also Recommend