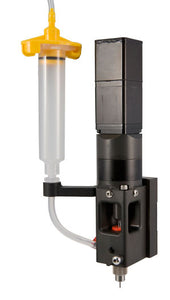 DL Micro Valve | Contact for price
The DL Micro Valve is specifically designed for dispensing micro volumes of material in precise, repeatable patterns. The brushless motor precisely controls the rotation of the auger, with a programmable encoder that provides more than 57,000 counts per 360 degree revolution.
The auger and cartridge liner are constructed of carbide because it is almost frictionless when running carbide on carbide. Plus, cleaning and maintenance costs are minimal, reducing downtime and overhead costs.
The cartridge, the auger, and the needle are the only wetted parts that require cleaning and can be easily extracted with the syringe and feed tube as one piece. The pieces can then be stored overnight depending on the properties of the material being dispensed.
The cartridge is available in three styles; Fixed/Floating DL Z-Cartridge for footed needles; Fixed Luer Z-Cartridge for Luer-Lok style needles; and our DL Fixed/Floating Z-Cartridge for our encapsulation style needles.
The Micro Valve is Available in Left or Right Hand Configurations
---
We Also Recommend