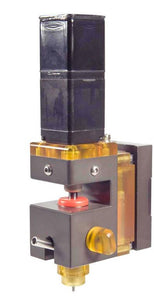 DL HY-FLO Valve | Contact for price
The DL Technology HY-FLO dispensing valve is for high volume applications in electronics assembly, medical device and industrial assembly markets. The HY-FLO valve provides precise material control and repeatability by maintaining consistent temperature. An embedded thermocouple offers closed-loop control, compensating for temperature changes in the environment that may lead to process variations.
The HY-FLO valve features an advanced plastic that prevents heat migration to the gantry and the motor. The valve uses 24V, 40W Kapton heater and a copper cartridge for maximum heat conduction. The valve operates in a temperature range ambient to 100 degrees C.
The auger configuration is designed to support the flow rate, which can be as high as 250mg/second. The HY-FLO valve is also available without the heater element for high volume applications that do not require temperature control.
---
We Also Recommend